Kasei / Hoshi Outdoor Solar LED Garden Light (5 units/box)
Price

RM79.90

RM109.00

Brand
Lampogini
Points Needed

109000

Availability
In Stock

Design
Description
Highlight
Specification
Lamp:

LED (warm white)

Solar Panel: High efficiency Solar Powered Panel

Battery:

Included

Weatherproof (suitable for outdoor)

Solar Charging time: +/- 7 hours

Illumination time:

8

hours with a fully charged battery

Fixture Colour :

Dark Brown

Size Hoshi :

30.5cm fitting above ground, in ground 10.5 cm, 9.5cm diameter (Hoshi)

Size Kasei :

29.5cm fitting above ground, in ground 10.5cm, 12cm diameter (Kasei)

Warranty : 3 Months
Product Description
Perfect for your Garden, Yard, Lawn, Flower Bed, Terrace, Walkway and Driveway. C

reate a wonder Japanese style garden at home

Modern textured touch of Metal and Glass quality for this solar LED garden light is perfect to brighten your garden, lawn, car park and backyard.

High efficiency glass allow improves the light output greatly to ensure brighter lumens to illuminate your area.

Solar powered and fully automated, they automatically turn on at dusk and off at dawn.

It will auto charge during the day and turn on at night.

Install the In-ground solar light with ease by by pushing this solar landscape light into the ground. No addition tools required to install this ground lighting. Wireless setting up and operation with this LED solar landscape lighting

It is operated by a simple button on the lid of the torch and placed in direct sunlight, the light is ready to go. As it is powered by sustainable sunlight, it has no complex wiring, no additional costs from power.
Product Specification
Lamp:

LED (warm white)

Solar Panel: High efficiency Solar Powered Panel

Battery:

Included

Weatherproof (suitable for outdoor)

Solar Charging time: +/- 7 hours

Illumination time:

8

hours with a fully charged battery

Fixture Colour :

Dark Brown

Size Hoshi :

30 cm fitting above ground, in ground 10.5 cm, 10cm diameter (Hoshi)

Size Kasei :30

cm fitting above ground, in ground 10.5cm, 12cm diameter (Kasei)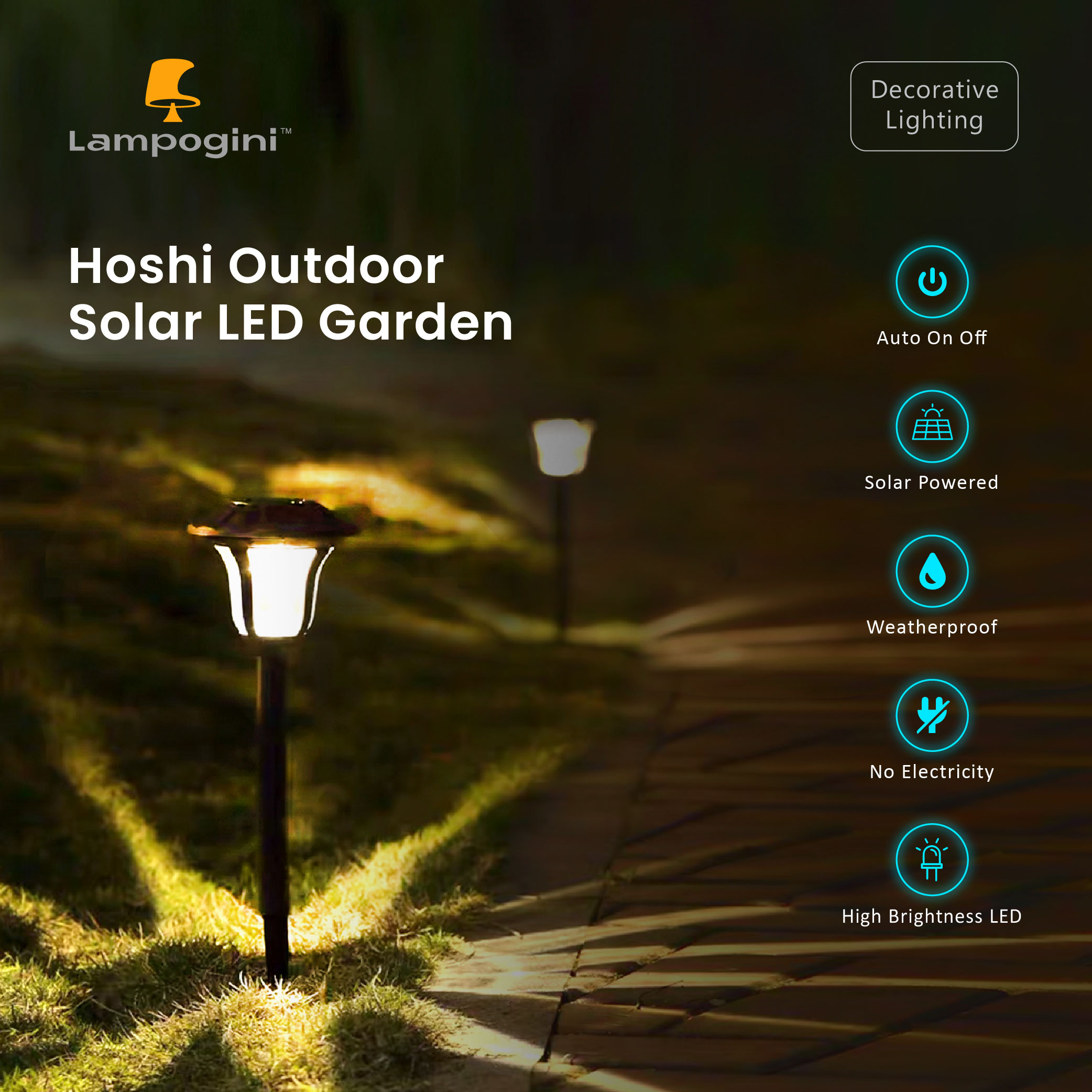 Reviews (2)
view all
back
What's in the box
5 units/box Kasei or Hoshi outdoor Solar LED Garden Light
3 Months warranty